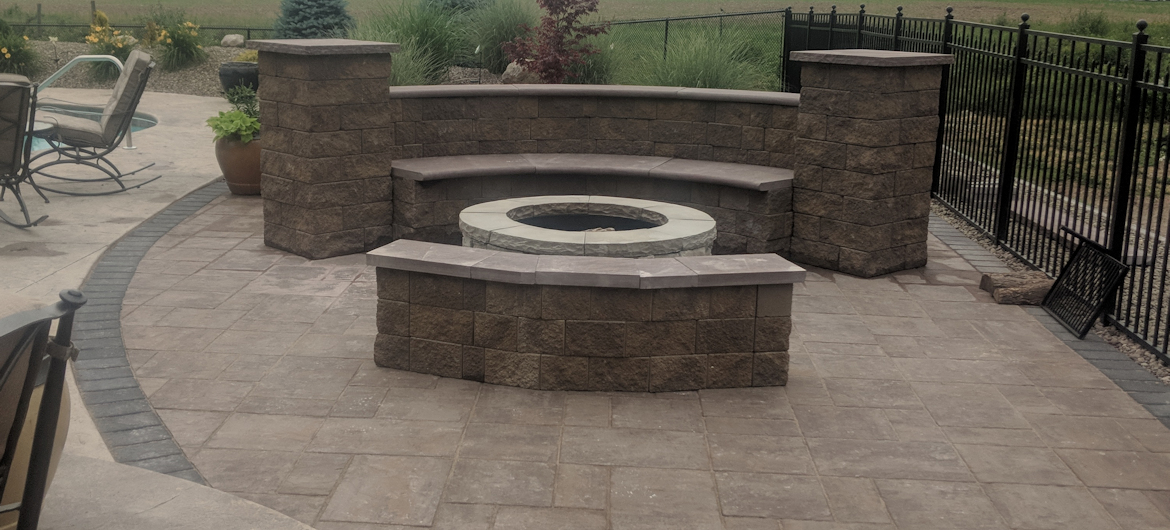 Outdoor Living Spaces and Solutions
When buying a home, "the yard" is coveted, however, do you really get to enjoy it? We've been helping homeowners reclaim their back yards and converting them into usable, enjoyable, and low maintenance outdoor living spaces for over a decade. Your yard should help you relax, entertain, and enjoy the weather while it lasts here in Western NY!
Concrete and Paver Patios
Your dream comes true with our design and installation team. Whether you prefer stamped concrete or sustainable pavers, we can custom design and install any configuration you wish to extend your usable yard and entertainment space.
Fire Pits
Our most common outdoor element with an outdoor living project is a fire pit. Simple ring, but placement, height, diameter, and seating areas around are all part of the project. Match and light to burn wood, or perhaps a plumned liquid propane system with colored stones and LED lights are more your style - either way, we can buold it.
Outdoor Kitchens and Grills
Take your outdoor living space to the next level with a stone based kitchen element, complete with grill insert, plumned liquid propane and side burners. Perhaps you wish to kick that up a notch with a refrigerator, or even a kegerator. Sit back - we've got this!
Patios, Walkways & More
These projects look so easy on YouTube, but in reality it takes substantial time, effort, planning and experience to build a walkway, path or steps that last, look great, and hold their weight.
Custom Outdoor Lighting Installation
Landscape lighting provides an additional level of both safety and that "wow" effect. We can also utilize spotlights for architectural features or garden ornamentation, floodlights for security, and heavy-duty lighting for high traffic areas. Many of our lighting options come in LED for extended life and reduced operating expense.