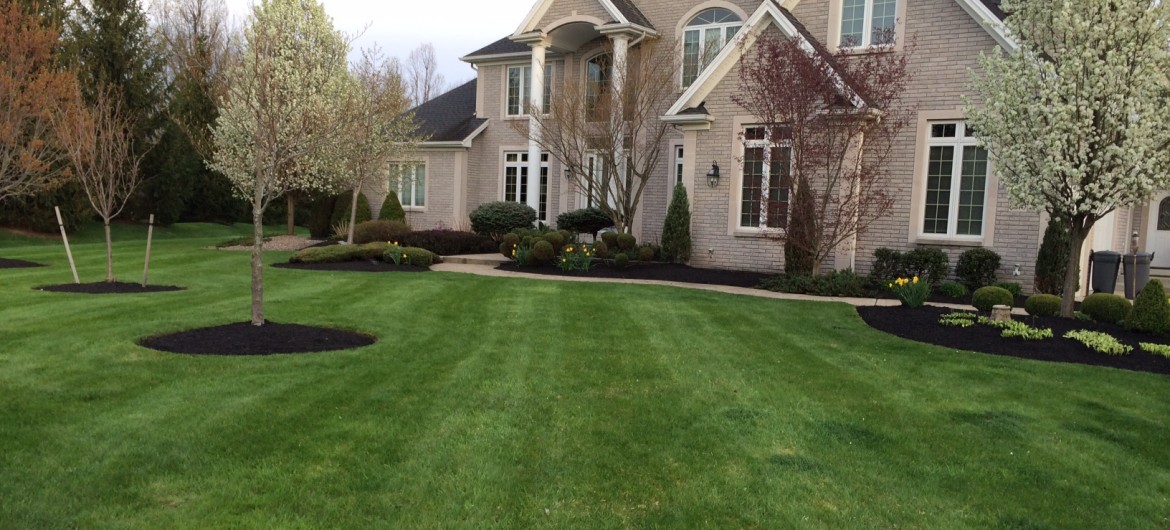 Professional Landscaping Services
Your home is your castle and no castle is complete without a show stopping lawn and garden (or a moat – and we can do that too!). Let our professional team address each of your concerns and wishes to create an amazing place for you and your family to enjoy every season. Not only will you create an outdoor oasis, but add value to your home and community.

Mike Sinatra's Landscaping And Snow Plowing LLC also provides commercial services for office, multi-family, medical and industrial properties in the greater western New York area. Please visit our Commercial Services page for more information.

Professional landscaping with Mike Sinatra's Landscaping And Snow Plowing LLC includes original design, sod and seed, garden bed installation and maintenance, tree and shrub placement, retaining walls, and brickwork for hardscape areas such as patios and walkways. Whether you are full of ideas and dreams for your outdoor space, or need inspiration, we are here for you with options for any budget.
Landscape Design & Installation
Our first step is developing a master plan tailored to your vision. From large open greens to lush floral gardens, tall evergreens for privacy, custom fire pits and private stone patios for entertaining, we can incorporate your ideas and our experience to create stunning spaces.

We take pride in completing each project on time and within budget and can provide you with a detailed quote and timeline after the design phase is complete. Mike Sinatra's Landscaping And Snow Plowing LLC purchases trees, shrubbery, and sod from reputable, local vendors to ensure your lawn is suitable for the climate of the greater Tonawanda, Amherst, Wheatfield and Clarence areas.
Hardscapes: Patios, Walkways & More
Patios, walkways and other stone areas, known as "hardscape", provide functional spaces within your lawn for access, safety, and enjoyment. Mike Sinatra's Landscaping and Snow Plowing LLC uses brick, sandstone, river stone, slate, quartz and other hard material for these projects.
Large Patios, Kitchens, Retaining Walls, and More
Bringing the comforts of the indoor outside is part of what we do best. Using the highest quality materials, we can transform drab exterior spaces into a place everyone will want to escape to– right in your own backyard! Mike Sinatra's Landscaping and Snow Plowing LLC can design and install large patio areas, ornamental masonry, fire pits and ovens, outdoor kitchen areas, gazebos, decks and more. Retaining walls for slopes help prevent erosion and keep soil healthy. We can show you innovative ways to incorporate retaining walls into your landscape design.
Custom Outdoor Lighting Installation
Landscape lighting provides an additional level of both safety and that "wow" effect. We can also utilize spotlights for architectural features or garden ornamentation, floodlights for security, and heavy-duty lighting for high traffic areas. Many of our lighting options come in LED for extended life and reduced operating expense.