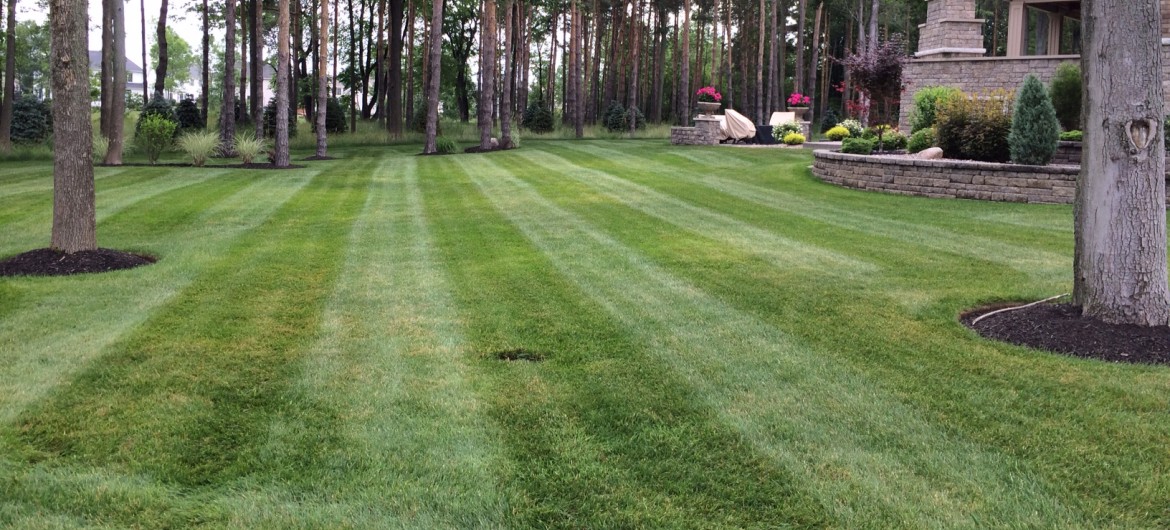 Lawn Mowing & Maintenance
We believe in protecting your landscape investment with year-round lawn care and maintenance. Mike Sinatra's Landscaping And Snow Plowing LLC specializes in maintenance services for a wide variety of lawns, gardens and hardscape areas and can fit any budget.

Our services for residential homes and commercial properties include the following:
Lawn Cutting and Edging
Aerating, Overseeding and Sod Replacement
Fall Foliage Removal
Lawn Mowing & Edging
Mowing and edging not only prevents your home owner's association from knocking, but also keeps your grass healthy. Overgrown grass causes excessive thatch (thatch is what gives grass that amazing cushion feel) impeding root growth and leading to dead spots.

Mowing on a schedule with sharpened blades, professional equipment, and changing direction will increase the health of your lawn.
Aerating, Overseeding and Sod Replacement
Soil needs air to provide proper nutrients to your grass, plants, shrubs and trees. Aerating increases the nutrient, water and air exchange to the root system to promoting new growth and promote a healthier lawn. Overseeding is required for some types of grass to reduce soil erosion, improve water infiltration. This method will also reduce weed invasion and help the soil retain fertilizer more efficiently. Mike Sinatra's Landscaping and Snow Plowing LLC also recommends sod replacement for areas that require new sod.
Pruning and Maintenance
Small trees, shrubs, and flowering bushes require regular pruning to promote healthy growth. Regular pruning, removing dead or diseased braches or limbs, also prevents damage and future disease or insects, but Mike Sinatra's Landscaping And Snow Plowing LLC advises you to be cautious as over pruning or cutting your shrubs and small trees back too soon can harm the life cycle.
Tree Trimming and Maintenance
Trees provide excellent sources of shade, privacy and beauty to your overall landscape. Take care of your trees by having canopies trimmed and – this allows for more sunlight and air to reach the entire tree and soil, protecting your investment for generations to enjoy.
Garden Bed Maintenance
Enjoy a full array of flowers, flowering plants, shrubs, herbs and other colorful arrangements with frequent bed changes. Regular weeding, soil monitoring, and plant selection and placement are important to the life cycle and your enjoyment. With proper maintenance, you can enjoy seasonal garden beds throughout your landscape.
Fall Foliage Removal and Spring Clean
Fall leaves are a regional hassle for Western NY. Removal of fall foliage, small sticks and limbs, dead or decaying wood and shrubs is an important lawn maintenance task. Preparing your lawn in the fall can prevent safety hazards. Mike Sinatra's Landscaping And Snow Plowing LLC also recommends a spring service after the snow to remove any additional debris that may have accumulated over the winter months.